Profile
This is where you can update your personal details such as name and email address.
To access the profile page, click on your name in the top right corner and then click Update Profile.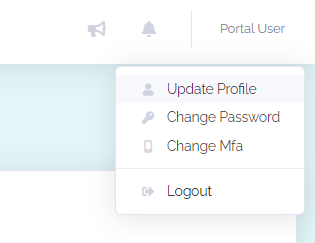 You will then see the below page where you can update your information:

First Name and Last Name​
These control how your name is shown in the portal.
Email Address​
This is the email address that any notifications will be sent to.
Time Zone​
Dates and times within the portal are converted to the timezone set here. Set this to your local timezone to ensure that dates and times match your local timezone.
Notification Preferences​
Any optional notifications are listed here. Some important notifications are not optional and cannot be controlled here.
---
info
You cannot change your username. If you have a legitimate reason for wanting to change your username, please contact your SecurEnvoy representative and we will try to help.